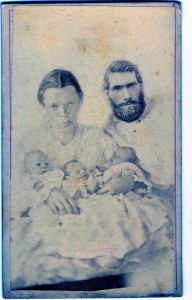 This haunting photo was found in a Bible that originally belonged to my great grandmother Lena Wilhelms Kohler.  It was passed on to her only child, my grandmother, Emma Kohler Boll and then came into my family with Grandma Boll's death.  Grandma Boll recorded family information in this Bible for both her family and her husband's family so I hope that the pictures that were inserted in the Bible could be from both families also.  In 2010 I sent this photo in to Maureen Taylor, the Photo Detective to see if it would interest her enough to write about in her blog for Family Tree Magazine.  I believe that it is a photo of my great grandparents John Boll and Barbara Platzer Boll holding my grandfather, Charles Matthew Boll, his twin? brother George, and maybe a third baby who did not survive long enough to be baptized with Charles and George 15 days after their birth. For one segment of Maureen Taylor's analysis of the photo see it    here .  My sole basis for this identification of the photo is because my grandfather's was the only multiple birth I have discovered in any of the family.  If this is indeed a photo of Charles Matthew Boll and his siblings, it would make sense that it would be found in a place of honor in his wife's Bible.
Many people in the 1800's and early 1900's had professional photos taken as their only memento of a deceased loved one.  The collection of photos in Grandma's Bible includes several photos of obviously dead people.  Now, with the proliferation of cameras we have multiple pictures of all our family members, some people even have videos of their children's birth and in the case of a still born baby the hospital will take photos and the family often will also, even with their phones.  At the time of this picture people did not have their own cameras, they had to pack up and trek down to a photographer's studio or have a photographer come to their home.  It was not a casual thing.  The reverse side of this carte-de-visite size photo has an advertisement for the photographer.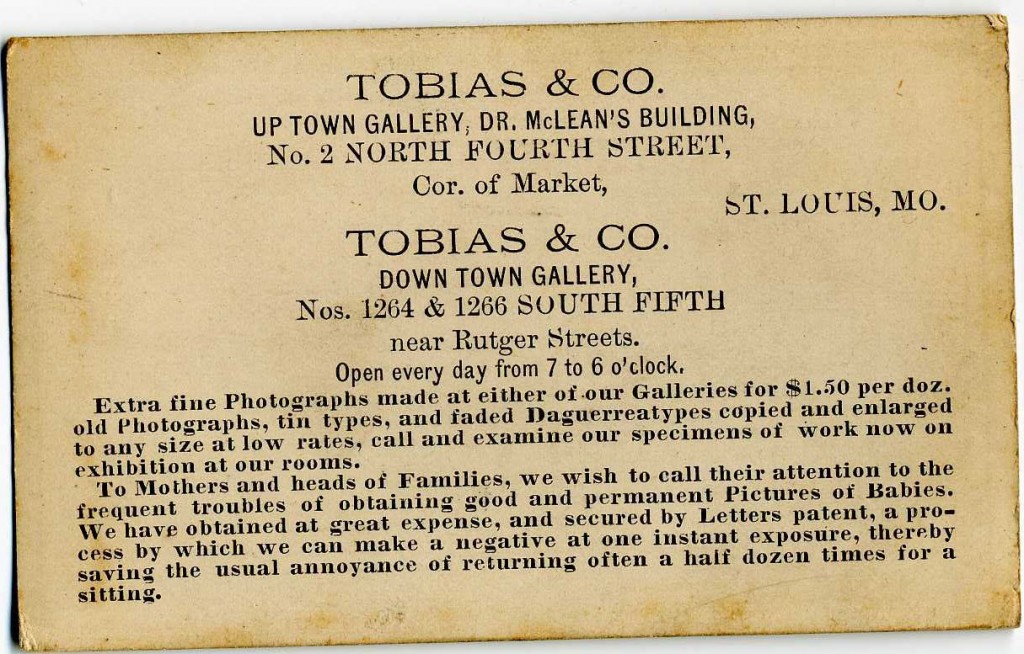 Tobias & Co specifically addresses mothers and heads of families regarding the difficulty of obtaining "good and permanent Pictures of Babies"  and advertising that they have a patent on a new process to facilitate this.
Maureen Taylor could not absolutely confirm a date for this photo because they are just wearing everyday clothing that did not change according to fashion trends. But, as I am writing this I have thought of 2 other avenues of research to pursue to better nail down a date for this photo. 1.  I will go back to the baptismal records and check the 15 days between the 8th of Dec 1883, their birth, and the 23rd when the baptism of Charles and George took place.  Possibly the 3rd baby was baptized immediately at birth because of his/her weakness or still-birth.  When the baptismal records were originally obtained, many years ago, I had not even thought to look for another birth/baptismal right around the same time.  My eye was immediately drawn to the one for Charles Matthew and I found it although the surname was Bohe rather than Boll (subject for another post sometime).  Lesson 1-  always look on pages surrounding your record, this especially applies when looking at Census records.   2.  I will research patents obtained by Tobias & Co.  If this patent was not registered until 1900, then it could not be on the reverse of a photo printed in 1883.  Now, care needs to be taken here because either the photographer could have applied for the patent, but not have had it issued already officially, but still advertised it as "secured"  or this photo could be a later reprint of a negative taken in 1883.