This morning I was sitting at my desk, going through my email and preparing to deal with the mundane chores of paying bills etc. when suddenly I was transported into another world.  Into a time and place where the situations of daily life make me vow to never complain again, about anything, ever, I mean it!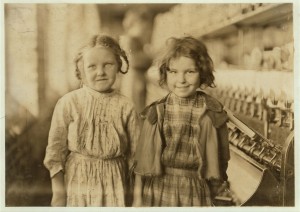 I was reading my latest issue of  Family Tree Magazine Genealogy Insider and clicked, as I always do, on the link for Maureen Taylor's Photo Detective blog . The post this week was about Ancestral Occupations and in her article Maureen Taylor made reference to photographer Lewis W.  Hine.  From 1908 to 1924, Mr. Hine worked for  the National Child Labor Committee and traveled around the United States photographing children at work in the mines, mills and factories.  His haunting photos went a long way toward the implementation of more stringent Child Labor Laws.  Over 5000 of his images are available online at the  Library of Congress.  The photos themselves, with the captions that Mr Hine added are very moving and just perusing them took several hours of the day, but Maureen Taylor also made mention of the work of  Joe Manning and his Lewis Hine project.  Joe Manning has taken many of the photos that particularly inspired him, and using his skills as a historian and genealogist, has researched the lives of some of the children portrayed in the photos, tracked down their descendants and interviewed them.  The photo above was merely identified by this caption, "Two of the "helpers" in the Tifton Cotton Mill, Tifton, Ga. They work regularly, 1909. Photo by Lewis Hine." In looking through all the photos from the Tifton Cotton Mill he found the little dark haired girl on the right was in all of them.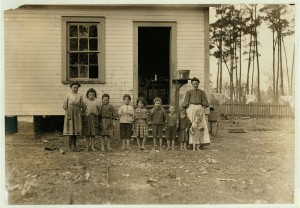 In this picture of the 9 stair step children, the little dark-haired cutie is right in the center.  The caption Lewis Hine had for this one gave Mr Manning enough information to begin the tale," A family working in the Tifton (Ga.) Cotton Mill. Mrs. A.J. Young works in mill and at home. Nell (oldest girl) alternates in mill with mother. Mammy (next girl) runs 2 sides. Mary (next) runs 1 1/2 sides. Elic (oldest boy) works regularly. Eddie (next girl) helps in mill, sticks on bobbins. Four smallest children not working yet. The mother said she earns $4.50 a week and all the children earn $4.50 a week. Husband died and left her with 11 children. 2 of them went off and got married. The family left the farm 2 years ago to work in the mill. January 22, 1909. Location: Tifton, Georgia. Photo by Lewis Hine."   
Mr Manning spent about 5 years tracking down and telling the life story of each of these children, the 2 not pictured here,  and their parents.  Amazingly, all of the children lived to adulthood and several lived past the age of 75.  The tragedy of this photo is that within 3 months after it was taken, the 7 youngest children here were all dropped off at an orphanage and would never again be together as a family.  Imagine the heartbreak that this mother, Catherine Bailey Young faced when her husband, Andrew Jesse Young died in 1906 or 1907 at the age of 37.  She was either pregnant still or had just had her 11th child, Jesse.  Somehow the family had managed to stay together and keep food on the table for 2 years.  Maybe the only way that they were able to survive was by having the children work?  It is pretty difficult from our vantage point 100+ years later to make hard and fast judgments about what should have been done .  The ethical issues involved in child labor seem easy to decipher now, but was it so easy then?
It is a logical fallacy to argue that just because one event transpires after another event that the second event was caused by the first, but in this case you have to wonder if the visit of Lewis Hines to the Tifton Cotton mill somehow precipitated the breakup of this family?  Each individual was affected differently and had differing degrees of abandonment issues etc., but maybe one or more would not have even survived to adulthood if they had remained working in the mill?  You'll have to read the stories yourself, but for me, I'm just profoundly blessed that I never had to make a decision like Catherine Young did.
All this got me to thinking about my grandparents, who were about the same ages as the Young children. My great grandfather Louis Trzecki was a butcher and for at least part of his life he owned his own shop.  He and his wife Antionette( Tucholske )Trzecki had 7 girls and 1 son between 1892 and 1910.  My grandmother, Agnes was the third child, born in  1895 and she always said that she and her older sisters all worked in the butcher shop.  A butcher shop does not sound like a real great place for kids to be working, but I guess it was better than a factory.   Here is a picture of the Trzecki kids minus the oldest, Helen and the youngest, Irene.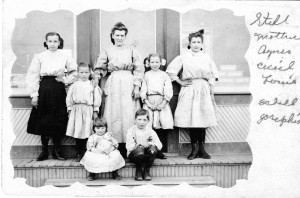 Josephine, the youngest in this photo was born in 1905 and looks to be about 3 here, dating the photo around 1908.  It was supposedly taken in front of the butcher shop which according to family tradition was in Wood River, IL, just across the river from St Louis.  I do love the wooden sidewalks, and maybe those are more likely in Wood River than in St Louis?  I have not yet located the shop, in the 1910 Census the family lived in St Louis, but in a news story when Helen witnessed a shooting in August of 1909 they lived in Wood River. [ The news story will have to wait until another posting.]
This 1910 Census of the Trzecki family (line 70-78, family 41) shows the 3 older girls all working.  The older 2, Helen and Stella, both worked in a "Dry Goods" Store, but my grandmother, Agnes, at age 14 was working in a shoe factory.  I wonder how long she had been working? The 1940 Census says that she completed the 6th grade, so she may have begun working at 12 or 13.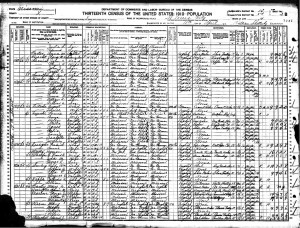 The shoe industry was big in St Louis in the early 1900s and Brown's shoe company was one of the most important.  I wondered if Hine had ever visited St Louis in his quest for documenting child workers and found that he had.  While most of his photos in St Louis dealt with newspaper boys, there are a couple from Brown's .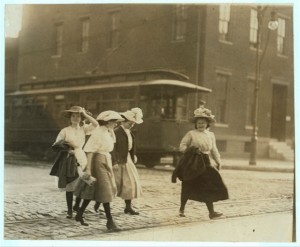 This photo of "Young girls going home from Brown's Shoe factory (Washington & 18 th Sts.) at close of day. Location: St. Louis, Missouri" could be my grandmother, or at least friends of her's.  The photo was taken in May 1910.  Notice the hats that they are all wearing!  My grandmother's first husband, Stanley Santorski died in March 1923 leaving her with a son, my Uncle Leroy.  I know that for at least 2 years, until she and my grandfather, John Pogorzelski, married in October 1925 Agnes had her own millinery shop.  These fashionable hats, worn by even the shoe factory girls, could have been the inspiration for my grandmother's later career.  I don't know for certain if she worked for Brown's shoe company or not, but the address that Hine gives for the factory is only .8 miles from the address where my 14 year old grandmother lived in 1910 so it is very likely that she dressed exactly like these girls in the photo and walked that .8 mile to the factory and back every day.  Maybe she rode the trolley car like the one in the background of the photo. [ One day I will write about the family story that my great great  grandmother Anastasia (Wonsewicz) Tucholske died from being hit by a trolley.]
Sometimes I get so caught up in the facts and dates and the documentation for all of those that I forget to put myself in my ancestors' place and  take the time to think what day to day life was really like.  Photos have a way of making it all come alive.  I feel like I would like to just step into the photo and ask them about their lives.  Sometimes I diminish the important of documenting the stories of my parents and grandparents as only being in the 20th century because I am so busy trying to track down things from the 17th century.  These photos really make me think about how different childhood was for even my grandmother.  And how grateful I am.