The registration is long ago done, the plane tickets purchased, hotel reserved (not the one I wanted…too slow there), still need to decide if I  rent a car or use taxi/shuttle combo.  I'm ready for FGS coming up in just over a month.  Well, not quite.  The biggest decisions still need to be made.  How do I decide which classes I will attend?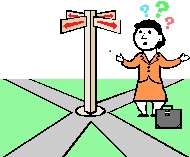 At any time during the day there are at least 8 different classes going on and special workshops in addition. Each and every one of those lecturers will be presenting information that I could benefit from, especially as a professional who may be called upon to research in places other than where my families originated or where they ultimately settled.  Unfortunately, there is no way that I can learn and retain longer than 5 minutes any information that I will not be putting to use in the very near future!
This is why my primary choices tend to be classes dealing with methodology.  I know that, in many cases, I already have the key to tear down my brickwalls.  It is just buried in a document collected years ago.  That document is definitely stored digitally on multiple computers and external hard drives and backed up in the cloud using several services.  That digital image will not be lost, but what good does it do me if it was not properly analyzed?  Even if I actually got it attached to all of the individuals mentioned in the record, out of the 4993 individuals in my database (I really need 7 new people) ,  how will I ever go back and reanalyze the information contained in that source?  When I obtained the image, especially if it was at the Family History Library or on some other research trip, I know that I made notes about the film, questions the document raised in my mind, other people who were mentioned etc., but those notes were in whatever spiral notebook I had with me on that trip.  Those notebooks, hopefully, now reside in  the huge pile in my office waiting for me to go through them and revisit each and every note or document I have found in the last 10 years.  There needs to be a better system!!!
I know that there is.  It involves retraining myself to approach a research trip with a written research plan and then turning that plan into a research report as I do the research.   This is what I have been learning in the last few conferences that I have attended.  Until I get it down and into practice this will be the main focus of the classes that I choose to attend.   So many of the class descriptions are appealing and yes, I need to learn more about DNA, I have those results and don't know what to do with them so should attend T-234. I have one ancestor who I believe worked on the Erie Canal, at least he lived in Lockport at the right time period, so I would love to go to T-216 and hear Karen Mauer Green speak about "Navigating the Erie Canal Records".   So many other classes that will be covering things that would benefit my research to know, but alas, I can't attend them all.    Maybe the DNA class would have info about cloning myself??  Hmmmm?
So, instead of attending all the classes that sound like great fun, many of them having really engaging speakers who tell great stories, I will be reading about those in the syllabus, getting some of the info presented but missing the fun, and attending the methodology classes and hearing over and over again that I need to write and follow a research plan and write research reports for each family.  This is the one thing that will most impact my genealogy skill set in the long run and so it needs to be my focus and priority.  Research varies on how long it takes to form new habits and I think I may be more resistant to change than many, but I will continue exposing myself to the influences that will produce change in my life until that change is accomplished.
Unless of course it is late in the day and the class I have chosen to attend next is way across the convention center.  I may just decide to stay for whatever class is next in the room where I am.