I'm currently on an airplane heading back to the Charlotte, North Carolina area for a month long stay.  It will be genealogy heaven!  Living  in the Western United States for the past 42 years of my life I have always had to travel to explore the places where ancestors left their records, even if it was only travelling to Salt Lake City to view microfilms from around the world. I'm looking forward to being surrounded by State Archives and county court houses just  a couple hours drive away in any direction.  A few months ago I was able to spend a wonderful day in the Charlotte Mecklenburg Library's Robinson-Spangler Room and found so many interesting things on my husband's Penney and Barclay lines there I can hardly wait to go back!    Several years ago we made a short stop at the South Carolina Department of Archives and History in Columbia, SC.  to research his Bamburg line.  We only had 2 or 3 hours there, but in that time I was able to locate the probate file of his 5th great grandfather, Johann Georg Bamburg who died sometime before 1802, and that of his 5th great grandmother Mary (LNU) Bamburg Orth, who died before 1822.  This is a page from his probate file showing the sale of his possessions, many of them being purchased by his widow, already remarried to George Orth.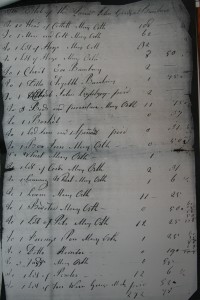 Johann Georg Bamburg fought for the British during the Revolution, but whether he was a mercenary hired by them, was born in Pennsylvania and was a Loyalist, or maybe was sent over by Frederick the Great to check on the welfare of the troops as a memorial stone contends is still hotly contested.  Maybe the definitive answer lurks in the South Carolina Archives, but requires a little more than 2 hours to uncover.  I'm looking forward to searching for that answer.  Whatever the truth is regarding how he came to be in the British army, he, like so many others,  remained in the newly independent United States of America.  He started several Lutheran churches in South Carolina and Bamberg county of South Carolina was named for a grandson of his who fought in the Civil War.
While I'm here in the Carolinas I will be visiting archives in both North and South Carolina and several county courthouses, libraries and universities.  If anyone has any research needed back here, I can take care of it for you without charging for any travel time since I will already be there.  My plans at this time include Mecklenburg, Cabarrus,Yadkin, Rowan, Surry and maybe Pitt counties of North Carolina and Orangeburg, Barnwell and Bamburg counties of South Carolina.  There will not be time for all of them of course, when is there ever enough time, but my priorities can be altered it it meshed with your research requests.